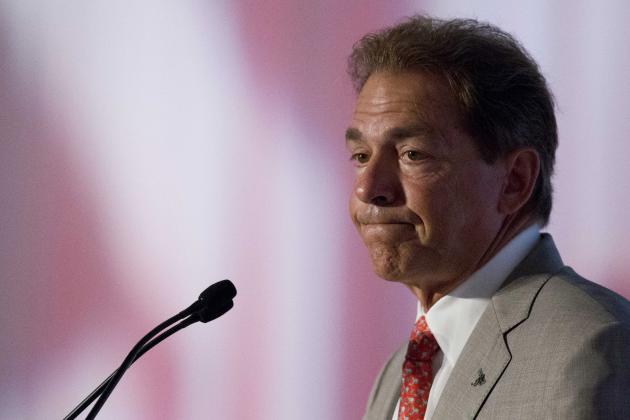 It's game week, which means SEC football Q&A is kicking that door down and making its illustrious return to Bleacher Report.
Each Tuesday, I'll answer your questions that are submitted via Twitter about anything in the world of SEC football. Basically, this is the weekly story in which you, the fans, drive the conversation.
So send your questions for next week to @BarrettSallee, and we'll get to them. In the meantime, here's the first SEC football Q&A of the 2015 season.
Whoa boy, let's get this year's Q&A started off with a bang, shall we?
No, Alabama isn't overrated. In fact, head coach Nick Saban's crew is being properly rated heading into this season.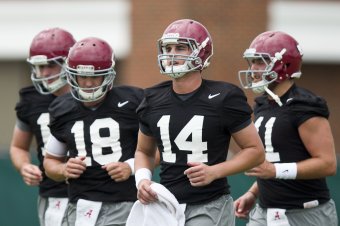 When Alabama was winning three titles in five years, it almost received a tag of being invincible from the college football world, despite losing games in national title years in 2011 and 2012 and needing a whole lot of luck down the stretch to even play for those crystal footballs.
The Crimson Tide have the lingering problem of a secondary that gives up too many big plays and some questions on offense, but they've proved to be a national title contender over the last two seasons despite similar issues on the roster.
They're ranked third in both the Associated Press and USA Today Coaches polls, and fourth in the newly released Bleacher Report Top 25. Essentially, what voters are saying (and I ranked Alabama No. 3 in the B/R poll) is that Saban's crew is solid, has questions and, if it answers them correctly, will be considered a team that's worthy of a national championship.
That's right where the Tide should be.
Jeremy Johnson has enjoyed a meteoric rise to near the top of the Heisman odds board, which I explained here earlier this summer.
Since you specifically asked about quarterbacks who haven't started a game yet, that also eliminates Tennessee's Joshua Dobbs, Texas A&M's Kyle Allen and Georgia's Greyson Lambert—who was Virginia's starter last year.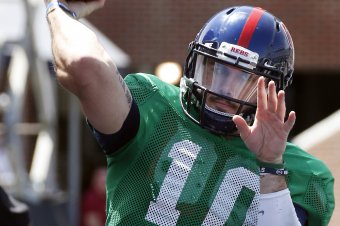 I'll go with Ole Miss starting quarterback Chad Kelly. Head coach Hugh Freeze named the junior college transfer as his starter for the season opener against UT-Martin, although he did say that Ryan Buchanan and DeVante Kincade will also play.
I don't buy that for one second.
Kelly has a strong arm, more upside than either of his primary competitors and is a threat with his legs on the ground. He has weapons all around him with a wide receiving corps led by Laquon Treadwell, a solid downfield threat up the seam with tight end Evan Engram and a coach in Freeze who knows how to find ways to put stress on opposing defenses.
If Freeze can give Kelly a little help in the running game between the tackles, the Rebels will get back into the College Football Playoff discussion and Kelly will be the man dominating all of the headlines.
I guess it would be easy to go with new starting quarterback Greyson Lambert, but that's probably too easy, right?
So I'll side with freshman wide receiver Terry Godwin.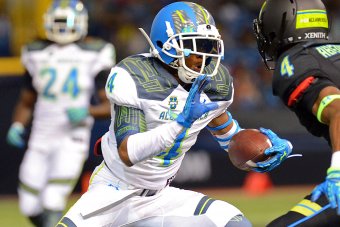 At 5'11", 174 pounds, it might seem like Godwin is destined to be a slot receiver in the Classic City. But he plays much bigger than his frame (like Texas A&M stud and fellow freshman Christian Kirk), runs incredibly crisp routes, has tremendous body control and that slot role will be occupied by the "Human Joystick" Isaiah McKenzie anyway.
"Some guys are naturally born to play certain positions," receivers coach Bryan McClendon told Marc Weiszer of the Athens Banner-Herald. "I think Terry was naturally born to play wide receiver. Things come naturally for him. The game of football comes very easy to him."
Expect new offensive coordinator Brian Schottenheimer to get Godwin involved in the game plan in a variety of ways, use him to get Lambert comfortable with his new role and provide a nice one-two punch with veteran receiver Malcolm Mitchell.
I guess you can say that since Urban Meyer really figured out what it takes to win as the front man of a big-time college program, but it's not like Ohio State was an also-ran before he got there.
Major programs like Ohio State, Oregon, Florida State and others were part of the same rise in coaching salaries, recruiting budgets and facility upgrades that helped build the SEC into a power—there were just more SEC teams in that pool that found success over the last 10 or 15 years.
If you want to relate Meyer's success to what he learned in the SEC, that's fine. But it's a little more simplistic than that.
He is simply focused on being a big-time program in Columbus, where a foundation was already waiting for him when he got the job prior to the 2012 season.
Quotes were obtained firsthand unless otherwise noted. Recruiting information is courtesy of 247Sports. Statistics are courtesy of cfbstats.com, and bleacherreport.com.

Barrett Sallee is the lead SEC college football writer and national college football video analyst for Bleacher Report, as well as a host on Bleacher Report Radio on Sirius 93 XM 208. Follow Barrett on Twitter @BarrettSallee.