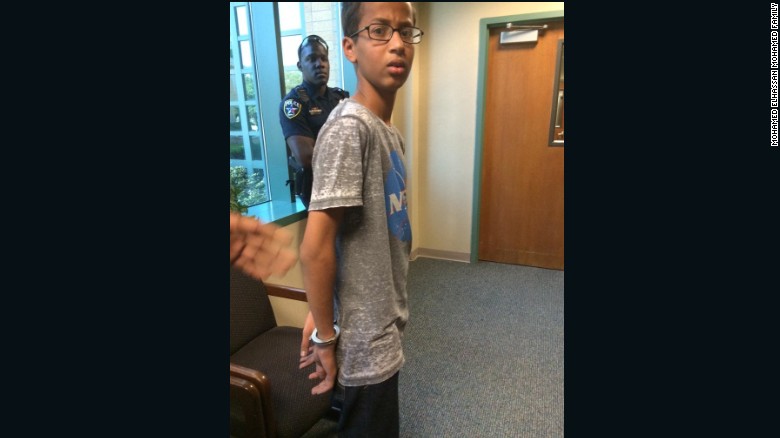 (CNN)When Ahmed Mohamed went to his high school in Irving, Texas, Monday, he was so excited. A teenager with dreams of becoming an engineer, he wanted to show his teacher the digital clock he'd made from a pencil case.
The 14-year-old's day ended not with praise, but punishment, after the school called police and he was arrested. A photo shows Ahmed, wearing a NASA t-shirt, looking confused and upset as he's being led out of school in handcuffs.
"They arrested me and they told me that I committed the crime of a hoax bomb, a fake bomb," the freshman later explained to WFAA after authorities released him.
Irving Police spokesman Officer James McLellan told the station, "We attempted to question the juvenile about what it was and he would simply only tell us that it was a clock."
The teenager did that because, well, it was a clock, he said.
Outrage over the incident — with many saying the student was profiled because he's Muslim — spread on social media as #IStandWithAhmed started trending worldwide on Twitter with more than 100,000 tweets Tuesday morning. The school's Facebook page is roiling with sharp criticism of the way the teen was treated, and the hashtag #engineersforahmed is gaining popularity.
"I think this wouldn't even be a question if his name wasn't Ahmed Mohamed," said Alia Salem of the Council on American-Islamic Relations. "He is an excited kid who is very bright and wants to share it with his teachers."
Many criticized the school on Facebook.
Kevin McKinney posted, "How did a bunch of complete idiots end up accidentally running a school? Were you all yanked out of a zoo and given paychecks? Learning centers are for teaching…not for ruining innocent people's lives with your racism and pathetic stupidity!…"This kid is destined to be something great if the dimwits of Irving don't ruin him first."
Mocking Irving Schools' motto, Bill Cain wrote: "'Where children come first'…to jail in handcuffs. Way to go, Irving."
Chance Williams posted, "Ahmed Mohamed deserves a public apology from you, the school administrators, police, and teachers involved in his arrest. I hope he sues, and the school district has to pay for his college education."
CNN has reached out to the police department for a response but has not yet heard back.
McLellan told the Dallas Morning News that Ahmed insisted the device was a clock, and that police have no reason to think it was dangerous and "no information that he claimed it was a bomb."
Still, police wanted "a broader explanation" from the teen, McLellan said.
Texas law stipulates that a person who commits a hoax bomb offense is one who "knowingly manufactures, sells, purchases, transports, or possesses a hoax bomb with intent to use" it or intentionally causes alarm or reaction.
MacArthur High School provided a statement to CNN in which it said it was cooperating with authorities and said privacy laws prohibited it from sharing details about student discipline. "We can assure everyone that school administrators are handling the situation in accordance with the Irving ISD Student Code of Conduct and applicable laws."
It was an English teacher who got spooked and reported Ahmed to the principal, according to WFAA.
"We always ask our students and staff to immediately report if they observe any suspicious items and/or suspicious behavior," the school's statement reads. "If something is out of the ordinary, the information should be reported immediately to a school administrator and/or the police so it can be addressed right away. We will always take necessary precautions to protect our students and keep our school community as safe as possible."
The clock is now in an evidence room at the Irving Police Department, the newspaper reported.
A reporter spoke with the boy in his bedroom, which is full of equipment that allows him to tinker and create.
"Here in high school, none of the teachers know what I can do," Ahmed told the paper while he soldered metal and played around with a cable.
A middle school robotics club member, the teen has won awards for his inventions.
He recalled showing one teacher the clock and her telling him that she thought it was "nice" but he shouldn't show other instructors, according to the paper. The teen put the clock in his bookbag but an alarm beeped in the middle of 6th period and Ahmed showed the teacher what he had, the newspaper reported.
"She was like, it looks like a bomb," he said.
"I told her, 'It doesn't look like a bomb to me.'"
When Ahmed was called out of class, he said he was brought into a room with four police officers, one of whom said, "Yup. That's who I thought it was."
Ahmed told the Dallas Morning News that he felt aware of what he looked like and his name as the officers fired questions at him.
He recalled that one officer said to him, "So you tried to make a bomb?"
He disputed that and kept telling them he'd created a clock.
Ahmed hasn't returned to school. His family told the newspaper that the principal suspended him for three days.
Meanwhile, the teen's defenders continue to slam the school and police.
"I really hope you guys are absolutely ashamed for possibly ruining the ingenuity of one bright kid who made a CLOCK for crying out loud. What kind of education does your professors have?" David Velez wrote on the school's Facebook page. "It sounds like they are the ones that need to be going back to school!"
"Shame on your school and its administration for arresting Ahmed Mohamed," wrote Jillian York. "Way to stifle a kid's creativity and energy. I hope you're all replaced with compassionate, non-racist, administrators and teachers."